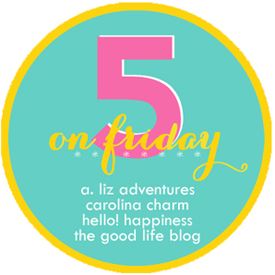 Hi! I've never linked up to this party before, but here goes! It's all about 5 Things I am loving this week.
1. Sunflowers! I didn't know I loved them.. But they look "happy" and add so much to a bouquet. They were only $3 apiece at the flower shop and they make me smile when I walk into my kitchen = priceless.
2. Paper Straws -They look so cute in a mason jar. You can add them to a summer drink table at a party. They are sold at Target for $1.99 and I also saw a big box of pink and white paper straws at T.J. Maxx. They would be great for birthday parties, too.
3. Blowing bubbles with my little boy in the summertime.
4. Fried okra - don't knock it til you've tried it. I sometimes make my own, but this was from a local restaurant.
5. Our finished DIY job of a tile backsplash in our kitchen. I blogged about it this week on
missgracefilledlife.blogspot.com
My husband is a hero!
Thanks so much for reading. It's always fun to link up to new parties!
Linking up to The Good Life Blog:
http://bit.ly/15o6mKj