For the last couple of weeks, I seemed to be having a lot of nightmares, headaches, and feelings of exhaustion. I also noticed myself snapping at one of the kids in particular. He could have come downstairs and casually said, "How's it going?" and I could have easily bitten his head off with irritation. I mentioned this to my husband who prayed with me. But again last night, I had such an intense nightmare about one of the kids. I felt troubled all morning.
At lunch today, my husband came home because he felt like
we
should pray over our house. I believe the first words out of my mouth were, "Could you get someone from church to come over here and pray with you?" I was pretty sure my prayers were not going to do the trick and I even felt irritated that he was asking me to do this. After all, does God even hear me when I feel like this? Yes, of course He does or where would anyone of us be? If He waited until I was living a perfect life, why would I need His help? I think He has great compassion on us on our bad days or when we are going through a difficult time. And the fact is, it helped me as I stepped out in faith.
If you are familiar with the Bible, you may recall a story out of Exodus where God instructed Moses to put the blood of a lamb on the sides and tops of the doorframes of the house, so that the angel of death would pass over them. He told Moses, "No destructive plague will touch you when I strike Egypt...I will not permit the destroyer to enter your houses and strike you down." (Exodus 12) It is interesting to me that they were required to take this step in order to be safe. It wasn't a matter of just praying, but also action.
Today, we anointed each doorframe in our home with oil - both inside and out. I took the upstairs rooms and Dave took the downstairs. I said a simple prayer, "Lord, I break every assignment of the enemy to disrupt our family."
I had to leave shortly after to drop off one of our children, but I noticed that when I came back, my headache was gone and I felt more peaceful.
Sometimes we need to take action over our homes. It shouldn't come as a surprise to us that we have an enemy that views our family seriously. We need to take him seriously as well in that we have the authority needed to disrupt and change his plans. We aren't supposed to just helplessly watch as he goes about on his mission which is to "steal, kill, and destroy". That is what he is all about. He has no other purposes for you or your home than those.
A lot of you reading may be Christians and so this is nothing new to you. But if this is a new concept to you and you have felt your home lacks peace, I encourage you to do the same. You don't have to pray an eloquent prayer. I certainly didn't. But each time I came to another door of our home, I realized that I had the authority, given to me by Jesus, to break off every plan of our very real enemy.
Father, I bless each person reading this. If they don't know You, I pray that You will invade their life and make Yourself real to them where they are today. I speak supernatural visitations over each one of them. If they need peace in their home, I bless them and their home with peace and bind every assignment over their home. In Jesus' name - amen.
Linking up to
www.homestoriesatoz.com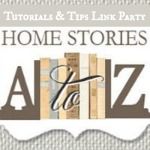 www.impartinggrace.com