To all young mothers...I remember!
I remember several years back standing in our kitchen at Teen Challenge. I had four children and the oldest was 2 1/2 years old. Two of the children had special needs. It was probably about 8:00 in the morning and I was tired and hungry. Of course, there was food in the house. I had eggs in our refrigerator, but I was too tired to make them. I distinctly remember looking out the window and wishing there was something like a food truck for mothers that would drive up and deliver scrambled eggs, bacon and a glass of orange juice to me. (By the way, I still think that is a million dollar idea. My sales pitch would be..."Up all night? Let Kathy deliver your breakfast this morning." ha ha)
I also remember
wishing
I could just grab my purse and the kids and go to Walmart. There was no such thing as a simple, spontaneous shopping trip. To take both of the kids who had special needs on my own, just wasn't possible.
Overwhelmed, exhausted...those were normal feelings during those years.
My husband was a
hero
because oftentimes, he would come home right after work, take one look at his frazzled wife and say these magic words, "Let's load up!" We would load all the kids into our van and head off to Des Moines for McDonalds, a walk around a mall, or go to Sam's Club to buy lots of cereal! Just getting out for a couple of hours was such a lifesaver for me in those days.
As the kids got a little bigger, we bought a side by side umbrella stroller. That made taking a walk a little easier. (Our twins had CP and weren't able to walk.) Whenever we would take the kids to Mississippi to visit my parents, my dad would put our
very
fussy twins in the stroller and walk them up and down the driveway. They were magically quiet during those outings and would come back inside with suntanned faces. My mom would then stuff them with pudding and for an hour or so, all would be quiet. That was quite a gift to me!
I remember how hard those days were. I remember being very sick with intense morning sickness and trying to take care of the kids I already had. There would always come a point where I couldn't do it anymore and Dave's mom would come and stay a few weeks until I could get back on my feet again.
I just wanted to say to all of you young mothers that I remember. It will get easier. Things will get better. It won't always be this hard.
Ask a friend to come and play with the kids while you take a shower. My friend, Nancy, would walk over from the ministry building where we lived, and sit in the livingroom with all the kids just so I could have 5 or 10 minutes to take a shower. She also gave up her lunch hour to sit with the kids once a week so that I could drive to Newton and go to Walmart. Sometimes I would take a couple of the kids with me and sometimes I would go alone.
We started putting the kids to bed early. That way we were able to have 1 or 2 hours to watch a movie or just talk.
One of our kids had severe health issues, so taking a trip away wasn't an option for us, but little things like taking a walk or having my husband take the kids for a walk so I could be alone in the house (!) meant so much. When I did feel comfortable leaving for awhile, I left a long list for the babysitter. I was and am very OCD, so I actually left detailed steps on how to do CPR. I laugh about that now, but I wasn't taking any chances! It's a wonder that I didn't demand references.
It won't always be this hard and believe it or not, you will look back on these days with fondness. You are doing a great job at something that isn't easy. You are investing your time and love into little ones that will remember that you read books to them, made them peanut butter and jelly sandwiches, and watched them splash in kiddy pools.
I remember and I want you to know that it will all be worth it!
Linking up to:
www.kellyskornerblog.com
and
www.homestoriesatoz.com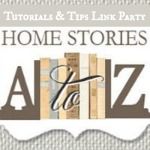 ww

w.impartinggrace.com