There's just something about Target.
I go to Walmart because I have to. I have a big family and the prices on the thousand boxes of cereal I buy are cheaper there. But I go to Target because it's fun!
My husband and I ran in there the other day and I found this bargain - buy 1 watch and get 1 50% off. I really don't wear much jewelry, but I loved these watches. The first one was $14.99 and the 2nd one - half off.
If you're looking for an inexpensive watch, I think the sale is still on.
What kinds of things have you found at Target lately?
Linking up to: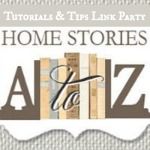 and
www.impartinggrace.com