Not long after we were married, my mother-in-law bought me a wok and a Chinese cookbook. I found the recipe for sweet and sour chicken in that cookbook and I've made it ever since. It's very easy to put together and makes a pretty presentation. I do have to add with a laugh that two of my kids say they don't care to eat it anymore as I have made it so many times. But my husband still says that it's one of his favorites.
Sweet and Sour Chicken
4 boneless, skinless chicken breast cut into cubes
1 green bell pepper cut into thin strips
1 can pineapple chunks, drained
2 small bottles La Choy Sweet and Sour Sauce
white rice
Brown the chicken breasts in 2 T. oil in a wok until cooked through - about 10 -15 minutes.
Add a little more oil if needed to stir fry the bell pepper strips with the chicken until tender.
Add the can of pineapple chunks.
Add the 2 bottles of sweet and sour sauce.
Heat until hot and bubbling and then turn to low. Serve over rice. You may also add egg rolls for this meal.
It's really good and super easy to put together. I've been in a cooking slump lately and have been so tired of cooking. I think I'm just ready to eat fresh tomatoes and corn and good things from off the grill. But we have a lot of snow on the ground right now, so that day is still a ways off.
Enjoy! And here's hoping that spring is almost here:)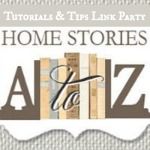 Linking up to
www.homestoriesatz.com