I've been on a dessert kick lately. I found this little dessert on the Taste of Home website. I've seen a variation of this recipe in several places, but decided to try this one out today. My kids taste-tested it and gave it their seal of approval. It's always fun to cut into a chocolate cake that has a liquid-y chocolate center, right?
Ingredients for 4 Lava Cakes
:
You'll need 4 - 6 oz. ramekins
4 tsp. sugar
1/2 cup butter, cubed
4 oz. semi sweet chocolate, chopped
1 cup confectioners sugar
2 eggs plus
2 egg yolks
1 1/2 tsp. instant coffee granules
3/4 tsp vanilla
6 T. flour
1/2 tsp salt
Whipped cream or extra confectioners' sugar
Grease bottom and sides of the 4 ramekins. Sprinkle each with 1 tsp sugar. Place the ramekins on baking sheet and set aside.
In a microwave safe bowl, melt butter and chocolate for 1 minute or so. Stir until smooth. Stir in confectioners' sugar until smooth. Whisk in eggs, yolks, instant coffee and vanilla. Stir in flour and salt; spoon batter into prepared ramekins.
Bake at 400 degrees for about 12 minutes. Centers will be soft, but sides are set.
Remove to a wire rack to cool for 5 minutes. Carefully run a small knife around cakes to loosen. Invert cakes onto serving plates. Lift ramekins off (mine came off easily, thank goodness!) Serve warm with whipped cream or sprinkle with confectioners' sugar. Yield: 4
Source - Taste of Home's beautiful photo
versus
My creation - I didn't get a clear shot somehow, but it was good!
*Please note -if this is pinned to Pinterest, please give credit for the
recipe to
www.tasteofhome.com
. Thanks so much!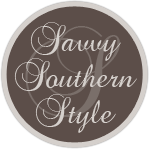 Linking up to
www.impartinggrace.com
and
www.savvysouthernstyle.blogspot.com